Corporate Cause Marketing: Go

 B.I.G. with
"CHARMED GIVING"
Building Impact

through

GivingBands

Did you know that 80% of consumers prefer to do business with companies that support important causes?  Armed with this knowledge, has your company has been looking for a simple and impactful Cause Marketing program that aligns you with  your favorite charity or cause?
The B.I.G "CHARMED GIVING"campaign does just that by creating custom branded charm bracelets with impact.
 Your $5000 donation funds 1,000 bracelets valued at $10,000
 

 Helping Companies HELP important Causes 
Imagine the impact of 1000 people wearing these bracelets every day and spreading the word about your favorite charity, AND your generosity and support. Much more impactful than just buying a table at an event!
Your company benefits from:
An effective program that is easy to implement…..simply contribute $5000 to fund 1000 bracelets
Aligning with a cause that reinforces your brand and commitment to community
An impactful, wearable cause marketing strategy that engages your team
Your charity can then:
Raise $10,000 or more by selling them (each bracelet valued at $10 minimum)
Give them away for events, gratitude gifts, and awareness campaigns
Engage supporters and recognize donors and volunteers
 CUSTOM BRANDING BEAD…….. CHARITY LOGO CHARM……….CUSTOM CARD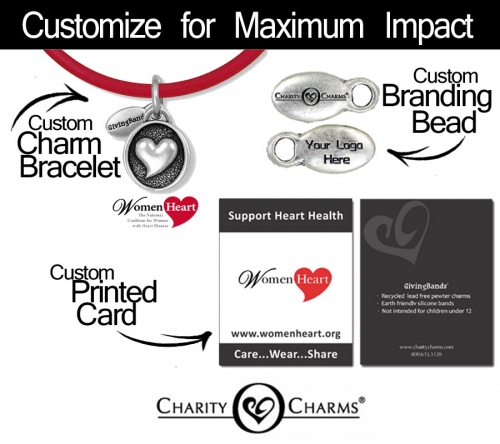 Charity Charms Also Gives Thanks….. 
OUR THANK YOU to YOUR Company (Value $1500):
100 extra bracelets for your team to wear proudly
A Blog and Social Media feature about your campaign to create additional buzz
A Charity Charms "Cause Marketing" Trophy
It's time to take action with Cause Marketing and

 Go

 

B

.

I

.

G

.

 Or CALL  for more details: 800.615.3120