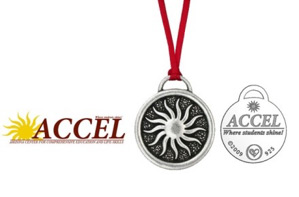 Commemorate a Special Event or Achievement
Use as a medal, a pendant, an ornament, golf bag tag, or wine bottle charm.
Customize with your logo charm that is attached to red ribbon.  Medallions are great unisex items that everyone can use. The pewter Charm is approx 2″.
Options include custom Branding Beads ($1.50 ea.) and custom Message card ($.50 ea.).
Use Medallions for donor gifts, walks, fundraisers, & special events.
Comparable Retail : $18-$30 each.
Your supporters will LOVE to spread the word about your cause by wearing YOUR medallion & telling YOUR story.