Austin Pets Alive! A Fun Surprise for a Family Member
Recently there has been a huge movement to make every shelter in America no-kill. Of course, no animal should lose their life simply because they don't have a home. Animals bring happiness to our lives and, ultimately, we can't imagine our lives without them. Austin Pets Alive! works to save every single animal that enters one of their shelters. They are working hard to make Austin a better place to live for every animal. Not to mention giving them a chance other shelters wouldn't.
They recently hosted one of their signature events at Nordstrom. Teaming up with BarkHappy, they put on a doggy fashion show to benefit Austin Pets Alive! The store opened one hour early to allow BarkHappy customers to get in a little extra shopping. In addition, everyone had the opportunity to win a spot on the runway with their furry friend! We are positive everyone loved watching the puppies strut their stuff on the runway! Charity Charms GivingBands were even spotted at the event. it just so happens Charity Charm's cousin Debbie Howard was at the show! She knows the products well and was delighted to stumble upon them in her hometown of Austin when not expecting it! Supporters could pick up an Austin Pets Alive! GivingBand to show their support and love for animals.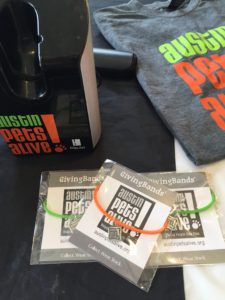 Leading the No-Kill Movement 
Austin Pets Alive! started in 2008 and quickly became dedicated to stopping the killing of adoptable cats and dogs. It is important to realize many shelter pets become euthanized when stricken with illnesses such as Parvo or Leukemia. They are often considered unadoptable or housed in a shelter incapable of treating their illness. Many Austin shelters, in general, implemented spay & neuter programs to keep the pet population contained. Although this helped the pet population avoid becoming too large, Austin Pets Alive! decided to take a different approach.
Austin Pets Alive! looked at the reasons pets are typically put to sleep and developed programs to address these issues. As a result, they were able to develop extensive and innovative programs designed to save lives of these at-risk animals. After developing cutting-edge programs like a Parvo Puppy ICU, Neonatal Kitten Nursery, and Medical Triage Clinic, they began pulling animals off euthanasia. Consequently, they have saved 40,000 dogs and cats from euthanasia giving them a brighter future.
Austin Pets Alive's Impact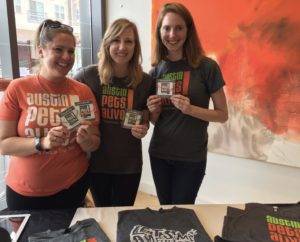 Austin has become a no-kill city. In fact, Austin is the largest no-kill city in America. They specifically achieved this, in effect, by receiving a 90% no-kill rate citywide since 2011. Austin Pets Alive! helped make this dream a reality by lobbying the Austin City Council for a no-kill plan which became a huge success. Furthermore, they even host a No-Kill Conference meeting with other groups across the country to help them achieve similar results. Austin Pets Alive is making great strides in helping every shelter across the country become no-kill.
To help Austin Pets Alive! they accept donations, volunteers, fosters, and, of course, adoptions! Visit their website to learn more.
Finally, a huge thank you to Debbie for sharing these great event photos with us. View more in our gallery below!
Bring awareness to your business, school, or organization through the power of Charity Charms!