Introducing Our NEW 'Add a Charm' Bracelets
Charms tell a story. Charm bracelets are a timeless way to tell your story. Surely, you've seen someone with a charm bracelet filled with charms signifying important times in their life. Whether they went to France, had a baby, graduated college, or got married there is some symbol that means something to them on their bracelet. It reminds them of a time in their life that holds deep significance. Shouldn't your organization be a part of their story?
Introducing 'Add A Charm'
Add A Charm is a personalized and adaptable item that lets you create a fully custom bracelet. Here's how it works.
Choose Your Bracelet Type: Add A Charm comes in leather-like braided bracelets or stainless steel bangles. This makes them the perfect unisex accessory because there is an option for both men and women.
Create Your Charm Set: Begin with your custom logo charm and add related symbol charms as necessary. Your organization chooses what symbolic meaning these charms have, and we have a variety of symbols to choose from. All charms are 15mm and made of eco-friendly recycled pewter. View all of our symbol charms.
Create a Legacy: Add a Charm is a program built with the idea of commemorating and celebrating achievements, fundraisers, or annual events. It is a fun way for your supporters to collect symbols that have a meaning to your community! This Legacy Program is a way to introduce a new charm year after year and have them collect them all.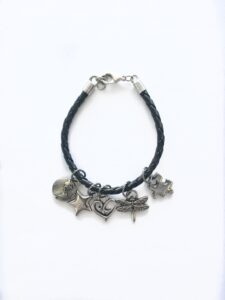 There are limitless options when it comes to 'Add a Charm' Bracelets. It is similar to traditional charm bracelets, but centered around and created by your organization. No two combinations will be the same. They are an item your supporters will treasure and love to add on to. Your supporters can create a bracelet they love that ties into your organization. They will simultaneously be telling your story and their own. After all, word of mouth is an essential marketing function. Why not create a buzz in a creative way that both men and women will love?