StreetLightUSA Helps Child Sex Trafficking Victims With the Power of Charms
There are an estimated 40.3 million human trafficking victims across the globe. In fact, 75% of those victims are women and girls. Human trafficking has become big business and an even more serious problem. Most frequently, human trafficking affects vulnerable populations such as runaways and homeless youth. StreetLightUSA is a nonprofit organization helping those most affected by human trafficking change their lives – young girls between the ages of 11 and 17. Their Behavior Support and Incentive Program (BSIP) program is enhanced with the use of Charity Charms GivingBands. These GivingBands are empowering bracelets helping to inspire positive change and hope for victims of child sex trafficking.
Empowering Bracelets for Change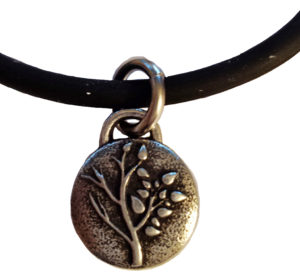 StreetLightUSA's GivingBands are bracelets worn daily by the girls in the Behavior Support and Incentive Program (BSIP). Specifically, they serve as important reminders of the milestones they have achieved and the positive impact of the choices they have made. The Behavior Support and Incentive Program (BSIP) emphasizes learning and growth. Ultimately, this is done by making new choices, creating new experiences, and achieving success.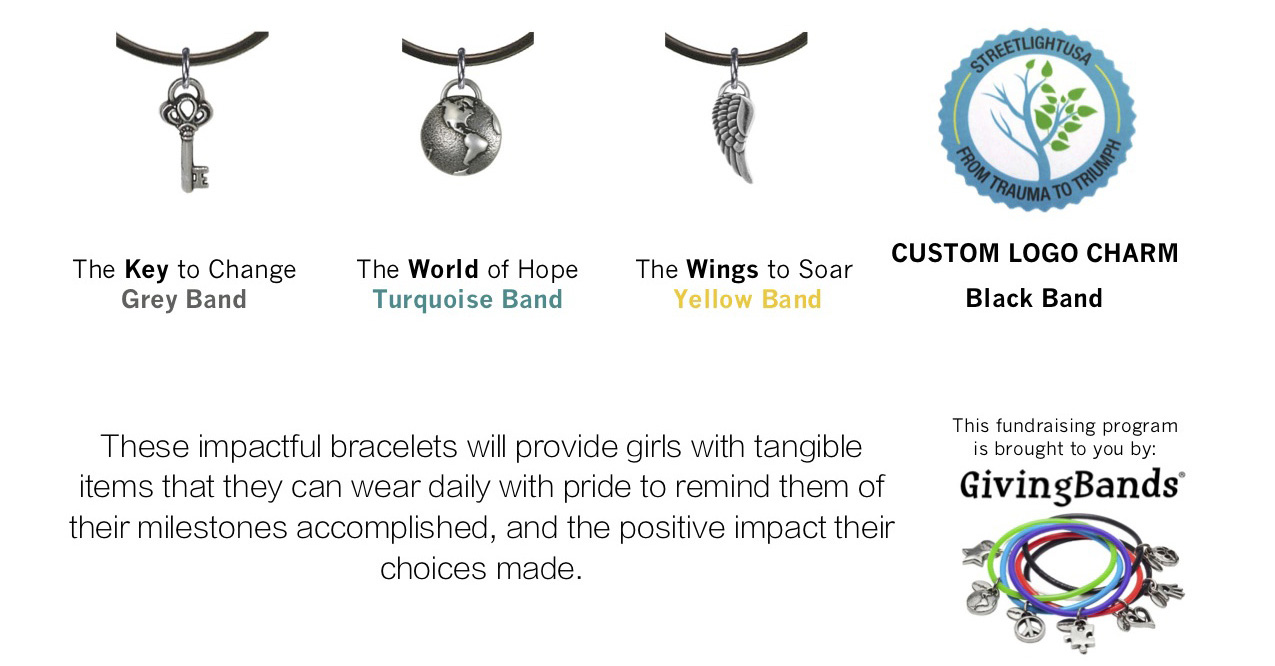 Together we created 4 empowering bracelets. The first features a key symbol charm on a black band. This bracelet symbolizes the key to change using all the new tools they have learned with StreetLightUSA. The second bracelet features a world charm on a turquoise band. It symbolizes a new world of hope for girls. A world of hope they may not have had before. The third bracelet features a wing on a yellow band. This bracelet symbolizes the wings each girl can use to soar into a life filled with positivity and success. Finally, we created a custom logo charm on a black band. This empowering bracelet features the StreetLightUSA logo and is a reminder of their organization.
About StreetLightUSA

StreetLightUSA began in 2008. They provide crisis intervention, housing, services, and programs to meet the needs of girls at risk for human trafficking. Ultimately, their programs inspire hope and change the lives of these girls by meeting their individual needs. StreetLightUSA uses physical and emotional therapy including therapeutic activities. Additionally, they provide mentoring and career planning to help the girls succeed in the future. Since 2011, they have helped over 1,000 girls overcome the trauma of human trafficking.
According to the National Center for Missing and Exploited Children, 1 in 6 runaways was victims of sex trafficking. It is important to realize human trafficking is a global problem. In general, many victims become coerced through violence and threats. Luring can also happen through romantic relationships or the promise of a job such as modeling. Surprisingly, some victims are even put into human trafficking by their own families. This can go on for days or even years.
A series of GivingBands featuring your logo and associated symbols can help your organization. They can help reinforce behavior and increase brand awareness.