3 Ways to Say Thank You Right Now
Showing gratitude is an important part of life. It spreads kindness and lets people know you appreciate them. These days there is no shortage of special ways to say "thank you." Surely there is someone in your life you want to thank or simply connect with right now. We should all be practicing gratitude daily, but, because of the frustration of daily life, it often gets pushed aside. The reason saying thank you is so important is that it has major benefits on mental and physical health plus it allows us to evaluate what we value in life. In other words, when you say "thank you" you're acknowledging what you prioritize in life and how you're living life. 
Why is this important? Gratitude strengthens your relationships which are no doubt an important aspect of your life. Saying "thank you" makes people feel comfortable, confident, and appreciated which means it helps the relationship last longer. On the other hand, when it comes to being a part of an organization, feeling appreciated leads to higher productivity and performance. This is true whether you're talking about employees, volunteers, or supporters in general. Charitable organizations thrive when these essential pieces are valued and shown the utmost appreciation. 
3 Ways to Say Thank You Right Now
Send a Handwritten Note
Sending a thoughtful handwritten note can mean the world to someone. Taking the time to sit down and let someone know you are not only thinking of them but appreciate them, can do wonders for the soul. If you're a charitable organization, take the time to thank volunteers and donors with thoughtful notes about how you appreciate their contribution. Businesses can thank employees by letting them know how valued they are right now and how you're thinking of them. The same can be said for family and friends. Everyone can use a little connection right now and a handwritten note can be a fun surprise.
Make A Quick Phone Call
At a time where connections are so valuable making a simple phone call can make someone's day. In recent years, we've heard many people talking about the lost art of the phone call and how many people prefer email and other technologies. Lately, there's been an increase in virtual meetings and video calls. No matter where you look, you'll find a way to make connections. Take a second to give someone a call and see what they are up to, how you can help them, and show a little gratitude. 
Give Them a Meaningful Gift
How are you showing gratitude to those standing by you right now? If you're a charity, give your donors and volunteers a special token representing your organization to thank them for being a part of your story right now. This is especially true if they have helped you through this crisis and enable you to help even more people. We've heard stories of people like Stella bringing bracelets to healthcare workers to thank them for the important work they are doing to help all of us. These meaningful gifts are something they can wear every day to remind them of the amazing contributions they make to our lives and the world overall. 
Ways to Say Thank You & Give Back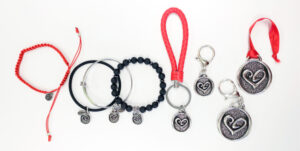 We know it's important to have a positive impact on the world. Showing appreciation and gratitude have a positive impact on your personal health and the health of the recipient. We have taken the guesswork out of finding the perfect appreciation gift with Have a Heart! Have a Heart is the Charity Charms retail line that helps fund charity programs. There is a token of appreciation for everyone on your list.
Click here to shop Have a Heart or our special package of Hero Bracelets
Download Charm School
Whether you're new to Charity Charms or a seasoned veteran, Charm School is here to help you get inspired with ways to use charms throughout your organization.