The NFL – Again Doing Their Part for Charity
We recently came across this new program for Camp Kesem through the Cause Marketing Forum
. Because
we think
it's great we wanted to share.
Camp Kesem Launches Scoring for Good Campaign for 2013 NFL Season
SEPTEMBER 5, 2013 (Los Angeles, CA) Camp Kesem is pleased to announce the launch of its exciting new initiative, Scoring For Good. In concert with the National Football League Players' Association, Scoring For Good is a novel fundraising program in which participating NFL players will donate funds to Camp Kesem each time a qualifying play is made. Furthermore, fans and other donors, will be able to match their favorite player's contributions. The program's first three participating athletes include E.J. Manuel of the Buffalo Bills, Aldon Smith of the San Francisco 49ers and Tyler Polumbus of the Washington Redskins. Scoring For Good will officially launch with a mobile app for both iPhone and Android users at the start of the 2013 NFL season.
About Camp Kesem
Kesem is a nationwide community to benefit kids. Above all, it helps children get through their parent's cancer. In other words, Kesem helps children whose parents receive a cancer diagnosis. A division of Kesem is a summer camp provided to children
impacted
by this horrible disease.
In fact, millions of children become
impacted
by a parent's cancer each year. Camp Kesem brings these children together and allows them to form a community.
Particularly
because this is a life-changing event few experiences.
Ultimately
having other children around going through similar things can help ease a weary child
. Above all, it's a fun, welcoming, and safe place for kids to be kids.
Kesem aims to create a world where children
impacted
by cancer never have to feel alone. They make lifelong relationships that help them through difficult times. As a result, children can feel and act like children. Something that can often feel taken away from them, to begin with.
Here is the adorable GivingBand we did for Camp Kesem! We love this cause helping give children support when they need it most.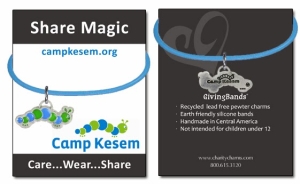 Are you a business, organization, or school looking to spread your message? Charity Charms can help!