Crowdfunding Basics: Raising Funds in Times of Disaster
In times of disaster, Crowdfunding provides a fast and easy way to raise funds. Here is a guide to crowdfunding basics to help you get the most out of your donations following a disaster.
Crowdfunding Basics to Learn Before Your Next Campaign

In this day and age, it would be surprising if your nonprofit hadn't tried its hand at crowdfunding yet. This post from Steve Page at Mobile Cause provides success strategies.
Let's start with the crowdfunding basics. Crowdfunding, the style of social fundraising that inspires supporters to donate to your organization in pursuit of a specific fundraising goal, is one of the fastest growing styles of fundraising in the nonprofit sphere. However, despite the style's ubiquity, your nonprofit may not fully understand crowdfunding or how to make the most of the medium.
Want to go back to the crowdfunding basics? Let's review everything you need to know about this social fundraising style by going over these common questions:
What's the lifecycle of a crowdfunding campaign?

How can we make our crowdfunding campaign stand out?

What are some crowdfunding best practices?

What are the benefits of crowdfunding?
Ready to brush up? Let's get started!
1. What's the lifecycle of a crowdfunding campaign?

 

Your nonprofit might already look to crowdfunding as a go-to fundraising source. Or, perhaps your organization is attempting crowdfunding for the first time to try and revamp your fundraising efforts.
Whatever the case, it's important to be clear on the lifecycle of a successful crowdfunding campaign. Especially if your nonprofit wants to make the most of this powerful fundraising medium.
Over the course of your crowdfunding campaign's lifecycle, your nonprofit should anticipate the following five stages.
Goal setting
Part of what makes crowdfunding so successful is that it is very goal oriented. Supporters will donate more when they can see how close your nonprofit is to reaching your goal. So it's important to set a reasonable, compelling fundraising goal for your campaign. Some ways to set your goal include:
Picking a concrete end-date for your fundraiser.

Identifying the cost of the projects you want to fund.

Determining whether or not you can reasonably raise the required funding during your campaign period.
It's not enough to just say you're raising money: be sure to explain to prospects how you'll use the money. Don't skimp on specifics!
Platform setup
Picking the right platform is integral to the success of your campaign. Without the right tools and support, your campaign can risk floundering. Always choose a platform that lets you reach as many supporters as possible, as well as one that lets you personalize your campaign page.
Promotion
Crowdfunding campaigns don't promote themselves. Once your page is set up, publicize your campaign to your constituents. Notify them online through email reminders and across your various social media platforms. Additionally, be sure to feature your crowdfunding page prominently on your nonprofit's website.
Engagement
Throughout your campaign, be sure to engage with your supporters. Post regular updates keeping your followers aware of how close you are to your goal. For added incentive to prospects, spotlight individuals on your page after they've contributed to your campaign as a simple (yet powerful) way to engage with donors.
Followup
After your nonprofit has successfully reached its goal, don't forget to follow up with your donors. Extend personal thank-you messages to all of your contributors and reference this contact list when notifying donors about your next fundraising efforts.
2. How can we make our crowdfunding campaign stand out?

One of the downsides of crowdfunding? This fundraising style is particularly competitive.
If you choose to hold a crowdfunding campaign, your nonprofit should be ready to go the extra mile to stand out from the crowd.
Luckily, there are a few strategies your organization can employ to stay ahead of the curve.
Make it personal.
Link your crowdfunding campaign back to your nonprofit's overall mission. Why is your cause worth supporting, and how will your crowdfunding supporters personally factor into the success of your mission? Center the necessity of your donors' support on your campaign page to make your fundraiser impossible to ignore.
Customize your page.
Similarly, your nonprofit should heavily customize your crowdfunding campaign page on your fundraising platform of choice. Put your organization's logo front and center and use your branded colors throughout. Definitely be sure to make your page look different than the pages of other campaigns on the same platform.
Offer incentives like GivingBands from Charity Charms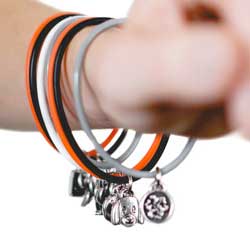 Sometimes, a compelling cause isn't enough to motivate potential donors. One of the most important crowdfunding basics is incentives. Consider offering incentives to supporters when certain goals are met. These incentives might be low-cost gifts, donated perks from corporate sponsors, or something as simple as a performance badge that's displayed on your supporters' crowdfunding platform profile pages.
Rally your supporters.
Part of what makes crowdfunding such a powerful medium is its social center. Crowdfunding campaigns work best when supporters spread them far and wide. Encourage donors to share your page across their social media platforms, as well as with their friends, family, and coworkers in person.
3. What are some crowdfunding best practices?

When it comes to crowdfunding, some campaigns seem to take off with ease. The others? Well, it's not hard to be left in the dust.
However, while crowdfunding might seem like a bit of a gamble, there are a few tried and true best practices you can follow. They will help get your nonprofit closer to success.
Consider employing these expert strategies when embarking on your crowdfunding campaign.
Hold a "quiet phase."
Because crowdfunding is sometimes seen as nontraditional, some nonprofits don't consider holding a quiet phase for these types of campaigns. However, your nonprofit should quietly ask for donations before your official launch. That way, potential supporters will be encouraged by your apparent early success and consider donating if they weren't convinced already.
Wait until the time is right.
Certain times of the year aren't optimal for fundraising, and this fact certainly extends to crowdfunding. In general, summer is a slow time for fundraising, and the months of October, November, and December are when fundraising hits its peak.
If your goal can be put off until then, you may have more success holding your crowdfunding campaign during these months. However, you should do your research, or enlist the help of a fundraising consultant to pinpoint what time of year has proven historically successful for your nonprofit.
Interested in seeking out the help of a fundraising consultant to improve your fundraising strategy? Take some time to consult Double the Donation's guide to nonprofit consulting firms before making your next move.
Use visual aids.
Supporters connect well with visual media, so it's important that your campaign features dynamic visual aids. Post photos of your staff, volunteers, or the community you serve, as well as videos. These can help tell make the case for your campaign's cause, as well as help endear potential donors to your organization.
Reach the right eyes.
Don't think of crowdfunding as a totally hands-off fundraising style. Like any other campaign, your nonprofit should conduct diligent prospect research and strategize how you target prospect segments before your campaign begins. Then, be sure to center those desired donors in your marketing strategy.
4. What are the benefits of crowdfunding? 

Part of what makes crowdfunding a favorite fundraising method for many nonprofits are the benefits of adopting the style. They aren't just limited to fundraising success.
In fact, your organization might very well experience a number of other positive results through your campaign efforts.
Your nonprofit might benefit from your crowdfunding campaign in some of the following ways.
Community building.
Not only can crowdfunding campaigns help raise money for your nonprofit, but they can also help build your community of supporters beyond the end date of your campaign. Particularly due to their social nature, crowdfunding campaigns can help spread the word about your cause. Plus it will introduce your organization to supporters you might never have accessed before.
Ease of access.
Crowdfunding lives online, and in our increasingly plugged-in world; online fundraising is where many donors turn to show their support for different nonprofits. Crowdfunding is even more convenient for potential donors when you choose a platform that supports mobile giving.
Awareness.
Setting aside fundraising, another way crowdfunding campaigns can prove successful for your nonprofit in the long run is by educating a wide array of people about your nonprofit's mission. Because of how crowdfunding campaigns spread socially, just by seeing a friend interact with your campaign a future donor might stay aware of your cause and be motivated to donate in the future.
Confidence in your nonprofit.
With the success of your crowdfunding campaign, you can also gain the confidence of the public in your cause. Since crowdfunding is public facing, you can use the success of your campaign as proof of your organization's capacity for fundraising success.
No matter the style of your next fundraising campaign, you can point back to your previous crowdfunding efforts and show potential donors how much you raised. As well as your organization's wide new reach.
Crowdfunding campaigns are one of the most ubiquitous fundraising styles that nonprofits turn to, and for good reason. Now that you've brushed up on the crowdfunding basics, you'll be able to take on your next campaign with confidence!
Interested in continuing to hone your online fundraising strategy? Be sure to check out MobileCause's beginner's guide to online fundraising for an overview of this exciting subject.
"Steve Page is a blogger, marketer, and webmaster for MobileCause, the world's leading mobile and online fundraising platform. MobileCause helps organizations reach their goals with a full suite of mobile-friendly solutions that allow donors to connect and give to your cause from any device. When he's not working at MobileCause, Steve can usually be found helping organizations with their websites, learning the latest marketing trends or working on his golf game."
If you would like to explore using GivingBands or another custom Charity Charms jewelry item for your crowdfunding campaign, BOOK A CALL with us!