Corporate Cause Marketing: Go B.I.G. with
Building Impact through GivingBands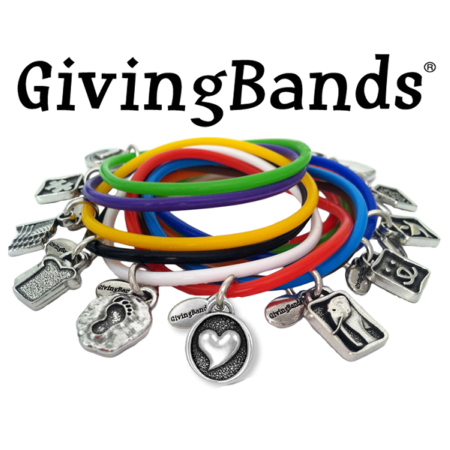 What is YOUR COMPANY'S Pay it Forward Strategy?
Our CHARMED GIVING program, featuring GivingBands, is a B.I.G. "Pay it Forward" solution for your company. We help you to engage your team and demonstrate your commitment to a better world, through a wearable icon.
Your $5,000 contribution funds 1000 bracelets with a value of $10,000

Imagine the impact of 1000 people wearing these bracelets every day and spreading the word
about your favorite charity, AND your generous support.
This is SO much more impactful than just buying a table at an event!
B.I.G. stands for (Build Impact with GivingBands), GivingBands are custom bracelets created by Charity Charms to help companies help causes. Since 2008, GivingBands have been used successfully to raise funds and increase awareness for hundreds of charities throughout the nation.
It's easy to CUSTOMIZE your campaign so your company or cause has maximum visibility by choosing a custom CHARM BRACELET and adding a custom BRANDING BEAD with a beautiful created custom PRINTED CARD. The presentation is CHARMING!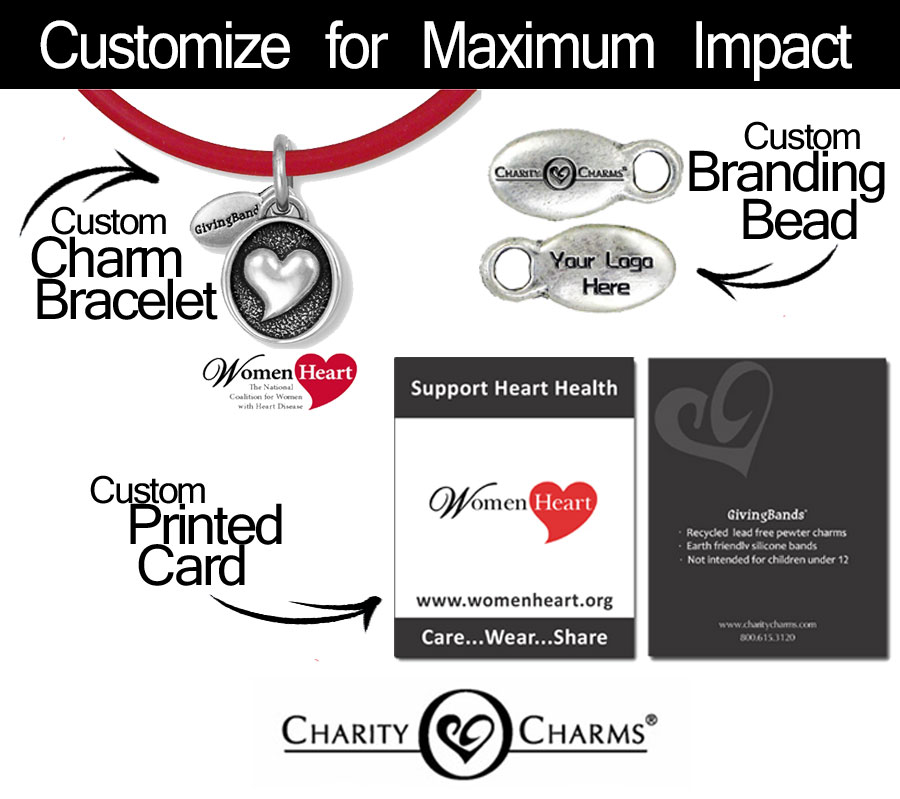 With the B.I.G. Campaign YOU choose the charity or cause that your team is passionate about. We have over ten years of expertise in working with 500+charities, schools and organizations and we provide tips and strategies for the non-profit to maximize your generous gift.
Your company benefits from:
A turnkey program that is easy to implement…..simply fund the 1000 bracelets ($5000)
Aligning with a cause that reinforces your brand and commitment to community
Provides a cause marketing vehicle that defines your culture
Your charity can then:
Raise $10,000 or more by selling them (each bracelet valued at $10 minimum)
Give them away for events and marketing
Engage supporters and recognize volunteers
Our "Charmed Giving" Program is your Cause Marketing Solution
Charity Charms is a B2B company that specializes in creating custom Cause Marketing programs for non-profits, schools, and businesses through the power of charms. We help marry your business focus with a cause that makes sense for your objectives.
Charity Charms for your Company's Cause Marketing: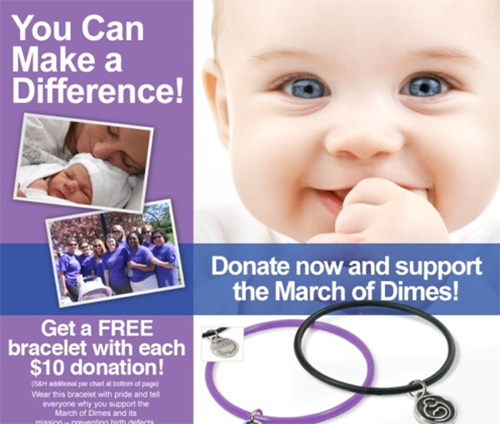 Farmers Insurance teamed with March of Dimes to use them for a fundraising and awareness campaign
National Bank of Arizona did a multi charity campaign that engaged their employees to action
Salt River Project underwrote charms that were the defining icon on a publication for the event

JDRF, American Diabetes, and Muscular Dystrophy have used them for Walks and Fun-Runs
Here are a few campaigns highlighted on our website: www.charitycharms.com
Our Gallery shows just some of the non-profits we have done work for: Client Gallery
Want to know more?
Here is a list of some of our clients: Charity Charms Clients
Definition of Cause Marketing from Wikipedia:
Cause marketing or cause-related marketing refers to a type of marketing involving the cooperative efforts of a for-profit business and a non-profit organization for mutual benefit. The term is sometimes used more broadly and generally to refer to any type of marketing effort for social and other charitable causes, including in-house marketing efforts by non-profit organizations. Cause marketing differs from corporate giving (philanthropy), as the latter generally involves a specific donation that is tax-deductible, while cause marketing is a marketing relationship not necessarily based on a donation.
Our friend Joe Waters, from Selfish Giving created this great infographic on the history of Cause Marketing!


Since 2004 over 500+ custom charm programs have been created for charities, schools, businesses, teams, and foundations. These thousands of charms have helped Spread Awareness and Raise Millions, while telling the story for important causes.