Custom Logo Charms to Help Give a Dog a Job!
Canine Companions promote independence, confidence, and goodwill
Since 1975, Canine Companions for Independence has been providing highly trained assistance dogs and support to people with disabilities. In order to launch their newest campaign, they wanted brand new custom logo charms to offer their supporters. Service dogs are specifically trained to provide assistance in a variety of tasks for multiple disabilities. Canine Companions for Independence has years of experience of training and instruction with over 60 different disabilities. They are the largest provider of service dogs in the world. Without service dogs, people couldn't do ordinary activities not to mention be independent. Things many of us take for granted every day.
People with disabilities depend on service animals every day to overcome barriers. In particular, they provide physical support and assistance. Not only do they help with tasks but they provide emotional support, comfort, and basic companionship. Canine Companions for Independence offers 4 types of companions spanning many disabilities. Specifically, they offer service, hearing, facility, and skilled companions. No matter what the disability, each companion animal supplies important emotional support. Ultimately this improves the overall health of the owner. Not only do companion animals promote independence, they are best friends and goodwill ambassadors.
Doubling Brand Impact with Custom Logo Charms
Canine Companions for Independence was preparing to launch their newest campaign, Give a Dog a Job, and looking for a new item to spread their brand. They had great success with their original logo charm through Charity Charms. As a result they decided to give a new charm a try! This new charm would be used for online sales, donation incentives, and as gifts.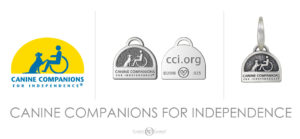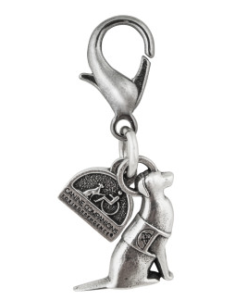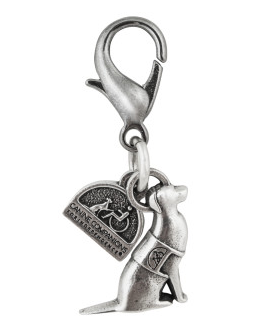 We used a large lobster clasp to create a clip-on tag that can fasten to a dog's collar. It can also be used as a purse charm, zipper pull, and even be worn as a pendant. It features the original Canine Companions for Independence logo charm and the new 3D Give a Dog a Job charm. Featuring the two charms together doubles the impact on their branding plus widens their reach. They can spread the word about their passion for providing service dogs. As well as feature their latest campaign to Give a Dog a Job.
Training Lifelong, Lovable, and Helpful Companions
Currently, Canine Companions is raising 1,316 future service friends through their program. Lucky puppies spend a year and a half with a volunteer puppy raiser. They return to a regional center to train and learn advance commands. Before graduating, dogs are matched with a human companion for Team Training. During training, the teams bond, and students learn to manage the dog's behavior. Finally, the entire training cycle ends with a graduation ceremony.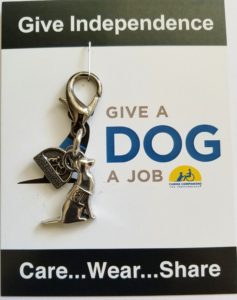 There is an increasing need to provide companions to returning veterans facing new emotional and physical challenges. Canine Companions for Independence provides service dogs at no charge for the dog or the lengthy training process and, of course, this is why donations are so important. Along with providing a service animal, they give continuing support.
Support These Happy and Healthy Furry Friends
Service animals provide unconditional love, loyalty, and positivity into the lives of their owners. They create strong bonds and have a lasting impact on the well-being of their handlers. Support these happy, healthy, and helpful dogs by making a donation to Canine Companions for Independence. There are many ways to help including visiting their online shop, volunteering, donating, and fundraising. So, give the gift of independence by giving a dog a job! By contributing this holiday season you'll be giving the greatest gift to those in need. Plus you'll have your donation doubled by Canine Companions for Independence! Click here to transform a life today.
Are you ready to create custom logo charms to double the impact of your cause?