One company, 11 charities, and their fundraising collaboration
We Are the Valley is a program developed by Dave O. Dodge from Ideation Nation. This fundraising collaboration helps 11 charities. Ultimately through events such as the Taste of the Biltmore, and with the sale of our custom GivingBands®. Together we can raise funds and spread awareness of these important causes. The National Bank of Arizona sponsored the whole program and also has underwritten the campaign.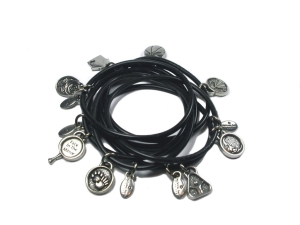 With the launch of the We Are the Valley website, and with its debut at the Taste of the Biltmore 2010, you can help your favorite cause by visiting the site and purchasing their custom logo Givingbands®. We have all come together through this unique fundraising collaboration to benefit multiple causes. You can choose which you support or create a custom stack of causes to share with your friends. After all, word of mouth is how most people find out about new causes. It is definitely one of the most beneficial ways to gain support for your cause.
A custom logo charm can benefit your cause in multiple ways. Whether a fundraising collaboration like We Are the Valley or simply to spread awareness, Charity Charms can help!
Bring awareness to your organization, business, or school through the Power of Charity Charms!