3 Keys to Hosting a Successful Virtual Event
With COVID-19, you likely had to reassess your upcoming events. Many of them were likely postponed or outright canceled. We know you utilize events to not only bring your community together but often to raise the important funds you need for your organization. Luckily we live in a hyper-connected world which means you have the opportunity to take many of your events, especially fundraisers, virtual. 
Virtual events are gatherings that take place online which allows people to connect with each other remotely rather than in person. There are so many different types of virtual events so finding one that suits your needs and meets your objectives won't be difficult. Whether you choose a live stream telethon or a special activity there are a few things most successful virtual events have and why you should implement them. 
Why Should You Take Your Event Virtual?
Easier Management of Resources: Online events are easier to plan than a large in-person event. There is no worry about space, food, and all the other necessary items you need to make your event great. You'll need fewer people to help which means recruiting fewer volunteers. 
Cost-Effective: Virtual events don't have the overhead costs of a large event making it much more cost-effective especially when fundraising. Without the added cost, you're able to raise more funds and show your donors exactly where their funds are going. 
Virtual Events Are Still Impactful: Don't worry! Your virtual event is still going to be impactful! Technology has amazing tools that are giving all types of nonprofits ways to engage their audience from live streams to digital tours. Anything that relates to your cause and how they can help will be of interest to your supporters. 
Improved Engagement with Attendees: No matter what type of event you host, engagement with attendees before, during, and after your event is crucial. Engaging with virtual event attendees is made simple through the integrated tools of the platform where you host your virtual event.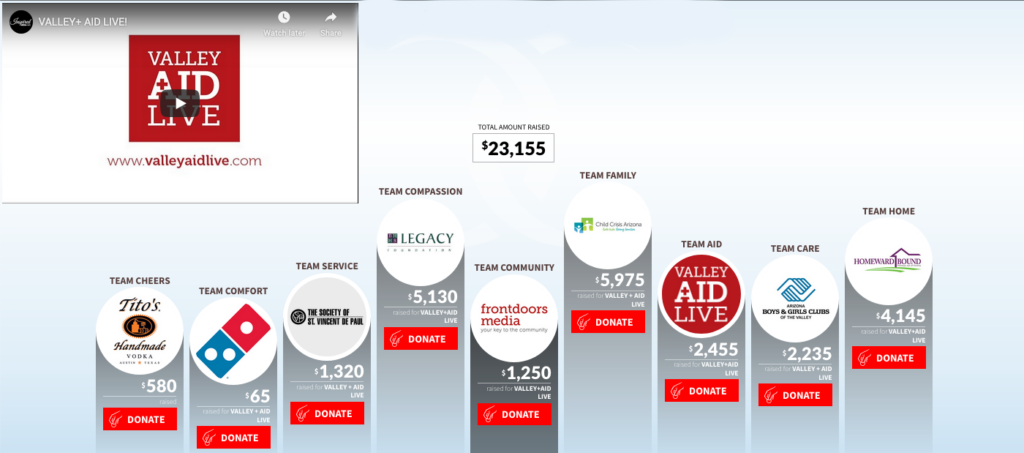 Sample of Valley+Aid virtual fundraising event using a live stream and Fund Duel
3 Tips for Making Your Event a Success
1. Keep Your Focus
Don't let the fact your event is virtual distract you from your intended vision. Have a clear purpose of why you're hosting the event. Communicate why you're having the event, what impact the attendee is making on your organization, and the positive change they are bringing to their community. Focus on your donors, their experience, their contribution, and inspire them to participate. 
2. Engage Your Audience
People love engaging online especially sharing their stories, opinions, and life experiences. This is a reason why your virtual event needs to have a place for audience participation. Thinking of a way to include your audience is part of the fun. It's a chance to get creative! Host a Q&A, give a poll, or even encourage your attendees to use a built-in chat feature to discuss with each other. Most successful virtual events have a way for their community to get inspired and connect with each other. 
3. Don't Forget Your Follow Up
Following up with event attendees is critical with in-person events but even more essential when it's a virtual event! It's a way for you to show appreciation and stand out from all of the other virtual events happening these days. It's something most successful virtual events have and a crucial thing you need to consider. There are many ways to follow up and you really can't go wrong with a tangible token. Ask your attendees to provide the information you will need to follow up with them by mail and have a plan for how you'll execute the thank you. 
Beautiful, Custom Donation Thank You Gifts
Everyone loves an event gift bag. Just because you're hosting a virtual event doesn't mean you have to skip this feature. A custom, tangible item shows appreciation for the supporter attending your virtual event and gratitude for their donation. Receiving a handwritten thank you note or beautifully packaged item with collateral for your charity, helps your event live on long after it's gone. Plus, you'll be adding an extra thoughtful touch that helps you stand out in a sea of causes needing support right now.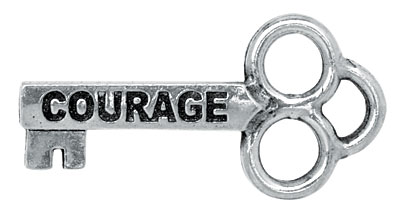 Charity Charms creates meaningful items with a charm created from your logo. Our turnkey fundraising program helps take your virtual fundraising or event to the next level.