Another Fabulous Partner: American Diabetes Association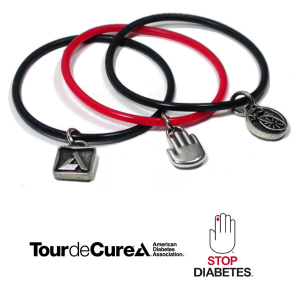 The American Diabetes Association is a great organization that fights to find a cure for diabetes through funding research. In addition, they provide support and offer community services. As a result, we have had the privilege to work with this organization to come up with custom ADA products. In essence, these products help promote the cause and raise funds. For this reason, we were happy to team up with them. Here is an example of how they presently use Charity Charms GivingBands:
Introducing American Diabetes Association GivingBands
We partnered to design a Stop Diabetes GivingBand. These bands will premiere at next weekend's 2010 American Diabetes Association EXPO. As part of their Share Your Story Booth, the first 25 attendees to share will receive a Stop Diabetes gift. Additionally, sharers can choose from the GivingBand or Stop Diabetes T-shirt. Moreover, EXPO attendees can also Band Together and Stop Diabetes. They can buy a Stop Diabetes GivingBand/T-shirt combo in the Bookstore whenever they like.
Finally, be sure to check out their website for information about this fantastic organization.
Bring awareness to your organization, business, or school through the Power of Charity Charms!