Are You Aware of Your Awareness Month?
Awareness months serve many purposes. They serve as a tool to unite people, but above all, they bring awareness to a particular cause or issue. As a matter of fact, each month is an awareness month for a few causes. Charities and dedicated organizations petition in order to have their causes added to the official calendar. Once added, the word begins to spread about these causes and valuable information people need to know.
Awareness months are a key tool for organizations. First, people crave community. Whether they are suffering from the issue or know someone who is, people love supporting others. This especially true when people are facing a challenge. Everything from petitions to pledges and even swag can draw people in. As a result, they can connect to something larger than themselves.
Second, people want to do something. Utilizing awareness months specifically reengages supporters. It also attracts new supporters who may have never known about the cause previously. Not to mention, awareness months provide a unique opportunity to craft interesting campaigns to draw attention to the cause.
August is…..Awareness Month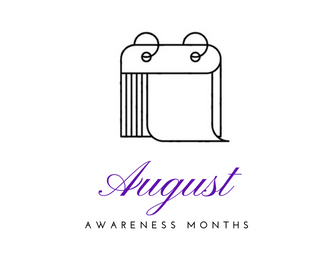 Children's Eye Health and Safety Month: It's back to school time and the perfect chance to get your child's eyes checked! Detect issues early on and set children off on the road to success early on in the school year.
Gastroparesis Awareness Month: Seeks to bring awareness to diagnosis, treatment, and quality of life for those suffering from this digestive tract ailment.
National Immunization Awareness Month: Used to highlight the importance of immunizations for all ages to prevent disease and serious illness.
Psoriasis Awareness Month: Encourage research and better care for the 7.5 million Americans affected by this autoimmune disease.
To keep up on Awareness Months follow Charity Charms on Pinterest!
Is your organization utilizing awareness months related to your cause or causes you support? As can be seen, every cause has a supply of passionate followers. It's even better when those passionate followers combine their desire for community with their love of making a personal statement. Presently, people have come to value non-verbal symbols, like bracelets, that associate them with a cause or community. Consequently, these tokens have become a visual currency that helps supporters convey how deeply they care about a cause.
Is your organization ready to create the perfect awareness month campaign?