Catherine Violet Hubbard Foundation Launches Online Shop Spreading Kindness

Catherine Violet Hubbard loved animals more than anything in the world. She had a gentle spirit and kindness towards all living creatures. To honor Catherine, her family reached out to Charity Charms to create a series of charity charm bracelets featuring animals. Catherine loved animals so much that she wanted to open "Catherine's Animal Shelter" when she grew up and even had business cards made with the self-appointed title "Care Taker." Today, her parents, Jenny and Matt Hubbard, and her brother, Freddy are carrying her legacy forward and inspiring the world to live compassionately through the Catherine Violet Hubbard Foundation and Animal Sanctuary (CVH) based in Newtown, Connecticut.
While CVH is a locally based charity, the vision for the organization is set on both a national and international scale. Additionally, National animal welfare organizations showing their support include the ASPCA and North Shore Animal League America. As well as Cornell University's College of Veterinary Medicine and the renowned, Dr. Jane Goodall through her Roots & Shoots program. The CVH Foundation is still in its infancy. The sanctuary is currently under construction, make it an exciting time to be a part of CVH's vision and mission. The CVH Foundation will ultimately encompass educational programming, environmental stewardship, animal rescue and adoption services, community building, farm to table, and so much more.
Honoring Catherine Violet Hubbard's Dream
Our Charity Outreach Director, Stephanie Mattera is a life-long animal lover and spokeswoman for animal welfare in NYC. She became inspired to get involved with CVH after a serendipitous meeting with Jenny Hubbard two years ago at an Audubon Greenwich event. Stephanie recalls, "When I met Jenny and learned about the plans for the Catherine Violet Hubbard Foundation and Animal Sanctuary, I was so inspired. I knew that I had to be a part of helping Catherine's dream come to fruition!"
Since that time, Stephanie has served as a CVH volunteer and the Mistress of Ceremonies for Catherine's annual Butterfly Party. Catherine's Annual Butterfly Party is a magical celebration in honor of Catherine's birthday. With this in mind, the event captures Catherine's beautiful heart and provides the community with a glimpse into the future of the sanctuary. Over 2,000 people attended on June 4, 2016 and more than 25 dogs and cats found their forever homes!
Working with Jenny Hubbard
This year was extra special because Charity Charms worked with Jenny Hubbard to launch a charm in honor of Catherine. Jenny shared with us why this charm was so important to her. "I had always wanted to create a charm to benefit the sanctuary, especially given that Freddy and Catherine would tell me they knew I was near because they could hear my bracelets jingling – one of those comments that just sticks with a mother.Now that we have the very charm I had envisioned, it's a reminder, each time I feel the charm hit my palm or hear it clanging among my other bracelets, that despite the distance that separates us- Catherine is near." Catherine's Butterfly Party, now in its second year, was the perfect time to bring this special project to life.
Creating Catherine's Charity Charm Bracelets
Ultimately, making dreams a reality for foundations and families is why we do what we do at Charity Charms. Charms have the power to tell a story, connect people in a meaningful way, and build a legacy of love. Jenny Hubbard carefully chose four of our stock charms. She chose a cat, a dog bone, a butterfly, and a paw print to go with Catherine's custom charm. Her custom charm features her beautiful profile surrounded by animals. Jenny also selected GivingBands representing the foundation's five signature colors. Each stock charm selected represents animals that Catherine loved especially butterflies! These charity charm bracelets are a brilliant reminder of Catherine's passion for animals.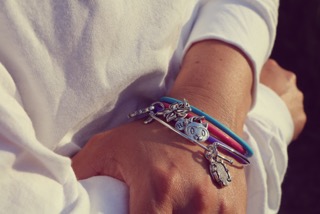 GivingBands weren't the only charity charm bracelets produced. Notably, a BangleDangle in silver featuring Catherine's custom charm was important to create. The adjustable "one size fits most" bangles come steel plated with rhodium or brass. Additionally, both the BangleDangle and GivingBands have a custom branding bead. In order to purchase your very own CVH set, please visit the CVH Shop. All of the proceeds from the sales of CVH's GivingBands and BangleDangles will benefit the foundation. And as a result, will help make the sanctuary a reality.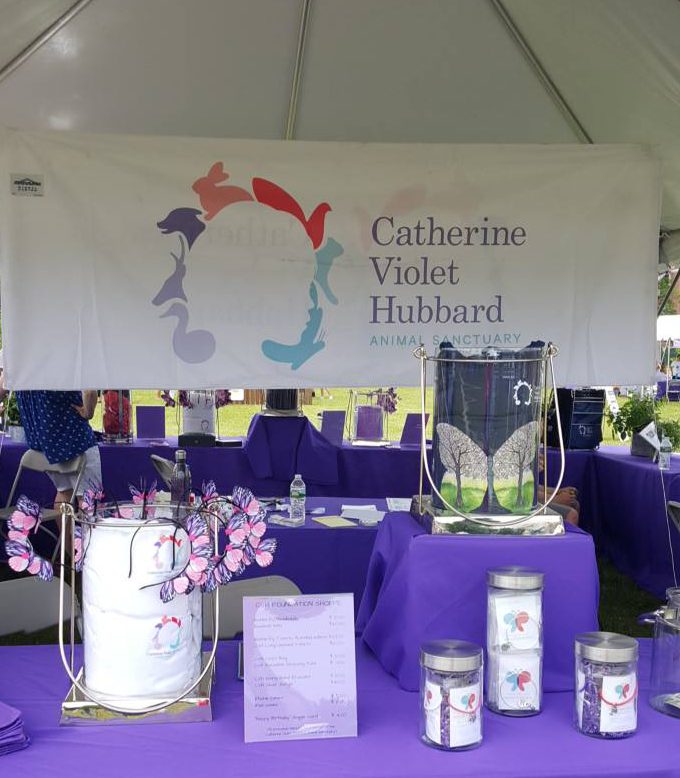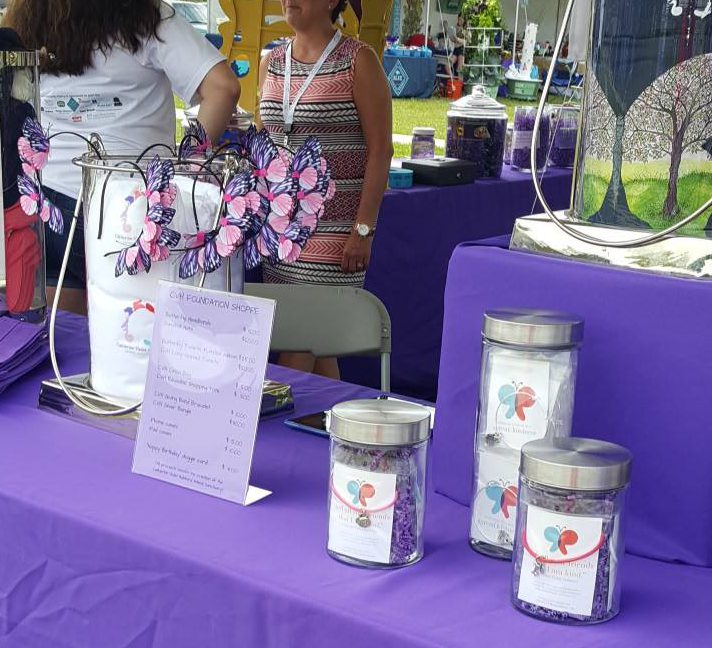 Help Make Catherine's Dream a Reality
Promoting social good and conscious living is at the forefront for today's consumers and donors. Charity Charms launched in 2004 out of a shared vision for a better world. Our mission is to empower charities and their supporters by creating beautiful and symbolic pieces that bring their important work to life. Since 2004, Charity Charms has created over 500 custom charm programs for charities, schools, businesses, teams, and foundations. Charity Charms is helping these organizations tell their story and connect people through the power of charms. Finally, to learn more about Charity Charms visit our product page and the Catherine Violet Hubbard Foundation visit, their website.
"Kay. Thank you so much. I can't tell you how many people tell us they love giving the Givingbands as gifts to friends and family of all ages."
Bring awareness to your organization, business, or school through the Power of Charity Charms!