The KNOW Tribe: Bracelets That Define The Tribe
As human beings, we spend much of our life trying to craft our personal identity. We spend years curating who we are and how we present ourselves to the world. At the same time, we have a basic need and desire for acceptance. Of course, we long for a tribe where we feel like we belong. I have found my tribe and couldn't be happier to be a part of it. The KNOW Tribe is incredibly beneficial and important.
I am thrilled to be a part of Phoenix's KNOW Tribe! Tyler Butler recommended me to Sarah Benken and Amanda Larsen to be featured in their flagship issue of the KNOW Book, and I was very honored. As we got to know more about each other, they got very excited about the custom logo charm bracelets we make and asked if we could do one for the KNOW Tribe.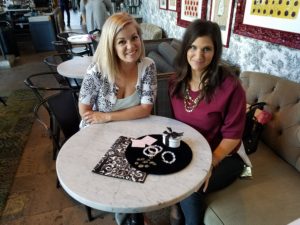 Absolutely! Charity Charms has made many private label items for companies with a big heart, and the KNOW Tribe is just that. Without delay, I got to work on creating the perfect bracelet to define the KNOW brand. I knew it had to be beautiful but also meaningful so they chose Charma Power Bracelets. We had a brainstorm session where I showed them the many options of stones, colors, and charms. (Here is a photo of our planning meeting…choosing stone and styles to match the KNOW Tribe Brand.
The KNOW Tribe Custom Charma Power Bracelets
The bracelet we created for KNOW used two semi-precious stones. First, rose quartz with the powers of balance, renewal, and focus. The second is a larger crystal bead signifying wisdom and purpose. Both colors also tied in with their brand colors and signature logo card. After that, we crafted a gorgeous square pewter charm hanging from the bracelet that says KNOW.
The bracelet commemorates membership into this very special tribe and is a wearable way to treasure the honor of belonging. – Kay McDonald
As mentioned, the bracelet helped brand the KNOW concept. Members of the KNOW Tribe receive a bracelet when they join signifying they are a part of the tribe. Women are wearing them daily and spreading the word about this new concept. The first publication of the KNOW book just launched and already women are asking how they can join and be a part of the next issue.
Hi Kay, I just wanted to thank you for the KNOW Tribe bracelet that you created for all of us in the KNOW Book! I wear it all the time. I just love your story too. Hope to see you at one of the upcoming events!" – Gena Johnson, IN 2 Design
About the KNOW Tribe
The KNOW Tribe is a collective of dynamic entrepreneurs, leaders, and philanthropists. Each who believe in female empowerment and lending a hand whenever necessary. In fact, the women of this tribe are diverse not only in age but also in walks of life. KNOW incudes over 100 women across a variety of industries. Everything from trendsetters to influencers and women to watch.
As can be seen, tribe members accept us for who we are while accompanying us on our life's journey. We don't just find them by chance. When you find a tribe, they stand by your side. They lift you up and help you find your way. To outsiders, they may seem like nothing more than a few close friends, but they are much more. Tribes help ground you and provide a sense of community. After all, they become drawn to you. Being among such hard working women in the KNOW Tribe is a great honor to me.
Featured Blog Image by Fully Alive Photography | @fullyalivephotography 
Bring awareness to your organization, school or business through the Power of Charity Charms!