When we bring your logo to life in a custom charm, it speaks volumes.
Our handcrafted custom charms are a 3D work of art….helping you brand your initiatives, by providing a meaningful item that your supporters will cherish and wear daily.
We invite you to view our GALLERY that shows a sampling of some of the charms created for our clients. They are presented by shape and category to help you envision what YOUR CHARM might look like.
Once your design is created, we can make it into any size (small charm, keychain, ornament, etc.) Our PRODUCTS PAGE shows examples of the many items we can make for you.

Front AND Back Customization Made Easy
Our "3 times is a Charm" customization process is as easy as 1, 2, 3:
Choose your Charms (Symbol, Ribbon, or Custom) AND your Branding Bead
Choose your Bracelet Color
Create your Custom Card
Most Styles of Symbol Charms can be customized on the back. 

Add a Branding Bead
Branding Beads can be added with your LOGO or Message.
Choose A Color
We offer 10 standard colors in our silicone band bracelets to match your brand. And… We can match any Pantone color with an order of 3000 pcs or more.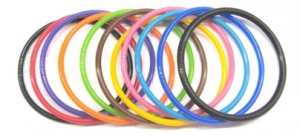 Include A Custom Descriptive Card
Complete the package and explain your mission or recognize a Sponsor.

Additional Options
EVERY Charm Style pictured can be:
Attached to other items like keychains and bangle bracelets (SEE PRODUCTS)
Made in any size from the 1/2″ on GivingBands to a 2″ Medallion
Cast in Pewter, Sterling, or Gold
Choose your Size: We can make any size you want from mini to medallion
Custom Charm Options
Charms can be attached to other items like keychains and bangle bracelets (SEE PRODUCTS) 
Made in any size from the 1/2″ on GivingBands to a 2″ Medallion
Cast in Pewter, Sterling, or Gold
Choose your Size: We can make any size you want from mini to medallion