Charity Charms has three kinds of charms:
1. CUSTOM CHARMS: Created from logos, graphic art, and icons
2. SYMBOL CHARMS: Non custom charms created from the world's most popular symbols
3. BRANDING BEADS: A small add on charm to identify an organization, sponsor, word , or year
Enjoy our Full Gallery which shows examples of these three kinds of charms so YOU can see how your concept might look. Once your design is done we can make your charm into all kinds of products.
"Charity Charms plays an important role in Gabriel's Angels strategic fundraising plan.  Charity Charms, under Kay McDonald's leadership, has been a very successful fundraising venture for us.  We are able to market and promote our charm year round with the help of professional collateral pieces that are provided to us.  The high quality of the charms and other jewelry is very impressive and a great selling point."
Pam Gaber
It's tough being a non-profit. You do such great work, but so do many others.
In fact, there are over 1million charities in the USA today, and then there is the WORLD!
How do YOU stand out from the crowd?
How do YOU engage new donors?
How do YOU keep "charming" your current community to support your cause?
We offer a fun and engaging solution using the Power of Charms.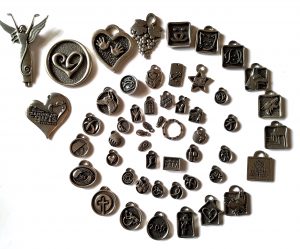 You see, charms have been used for centuries as a wearable way to signify passion for a cause or interest.
You can use this Power by turning your logo into a charm that everyone will want to wear.
So after you event or campaign is gone, the legacy lives on.
The people that support YOU wear their charms daily and keep spreading the word.
It's wearable, viral, impactful. And it WORKS!
Since 2004, Charity Charms has been blessed to create custom charm programs for over 500 charities, schools, and cause minded businesses. See our partial list of client here.
"WE LOVE THE CHARMS!!! They are absolutely perfect! I couldn't be any more pleased! Thank you so much for making it so easy for us and rushing it through to make sure we had them in time for the banquet. We will be in touch again very soon, I'm sure, to order more as these sell out! Thank you again for everything and God bless!"
Jennifer Threadgill